Welcome to Veggievision Dating
The place to connect and find love with likeminded vegetarians and vegans. We have lots of fantastic options for you to play with like sending cards, personality matching, listen to voice messages, view members videos and more.
Connect With Likeminded Vegetarians and Vegans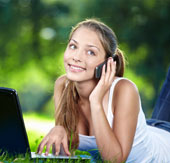 You can search, browse other members' profiles, and even send FREE messages and cards, plus you can use our HotList facility and try out the various components of our SuperMatch system.